Mysterious Elves' Adventure™ A CHRISTMAS EDITION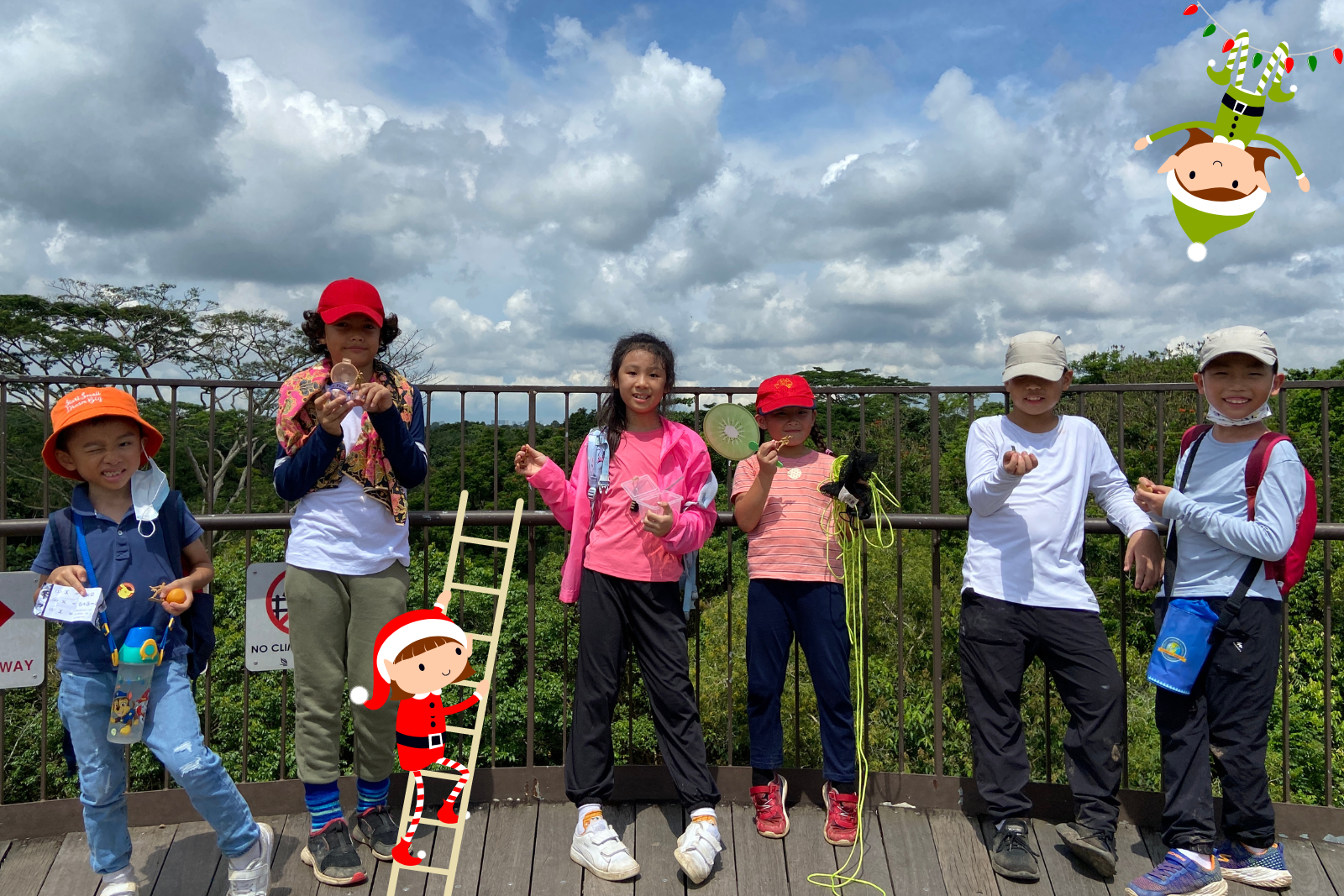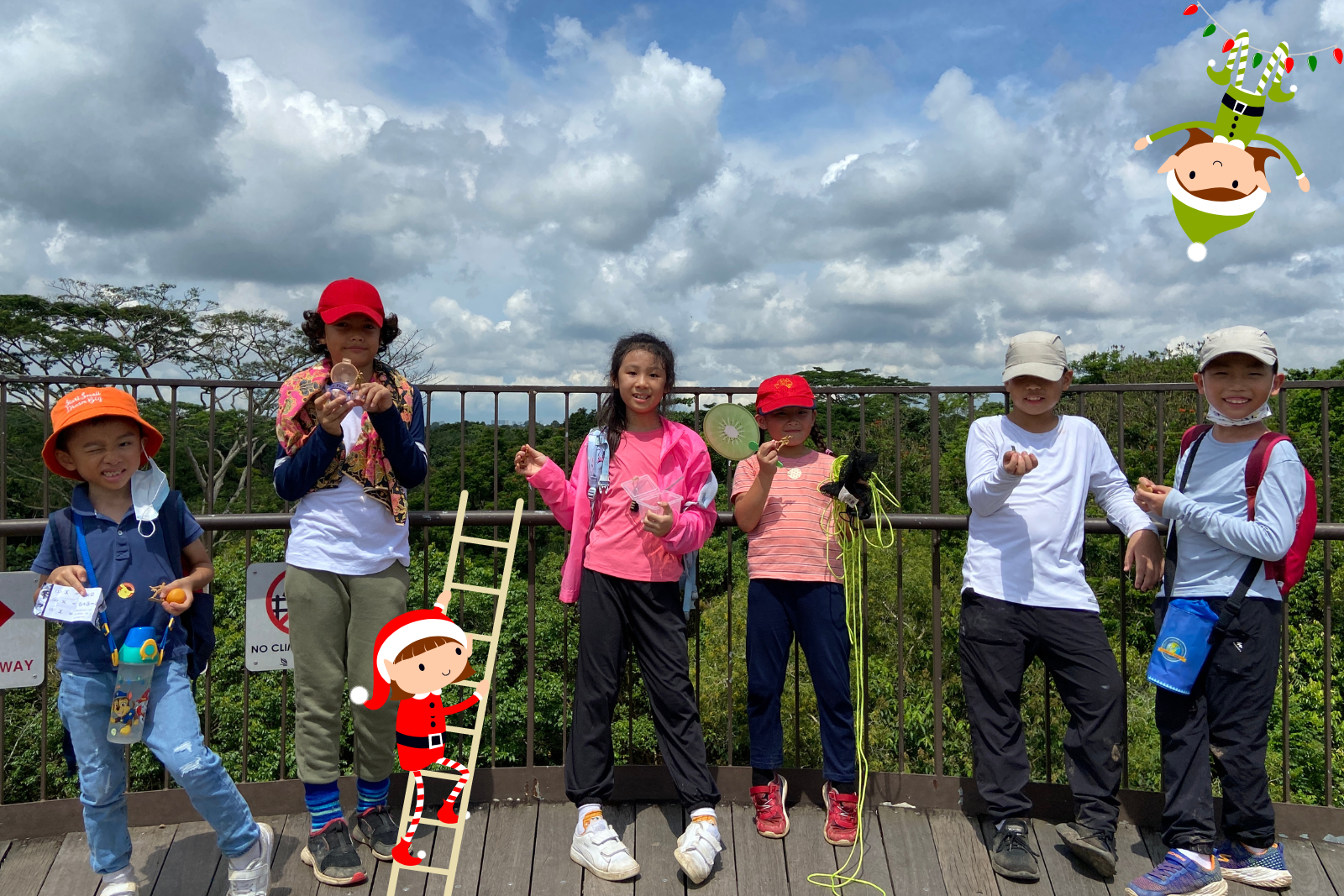 Mysterious Elves' Adventure™ A CHRISTMAS EDITION
Tropical Christmas-themed adventure
Perfectly-paced with right amounts of outdoor exposure for first timers
Enchanting forest to get acquainted to Singapore's flora, fauna and wildlife
Age range
7 - 12 years old
Instructor to child ratio
1:8
Venue
Day 1 9am – 3pm Mountbatten Square*
Day 2 9am – 3pm Mountbatten Square*
Day 3 9am – 3pm Mountbatten Square*
*Transportation is provided from Mountbatten Square to parks for Day 2 & 3
Select your preferred date and time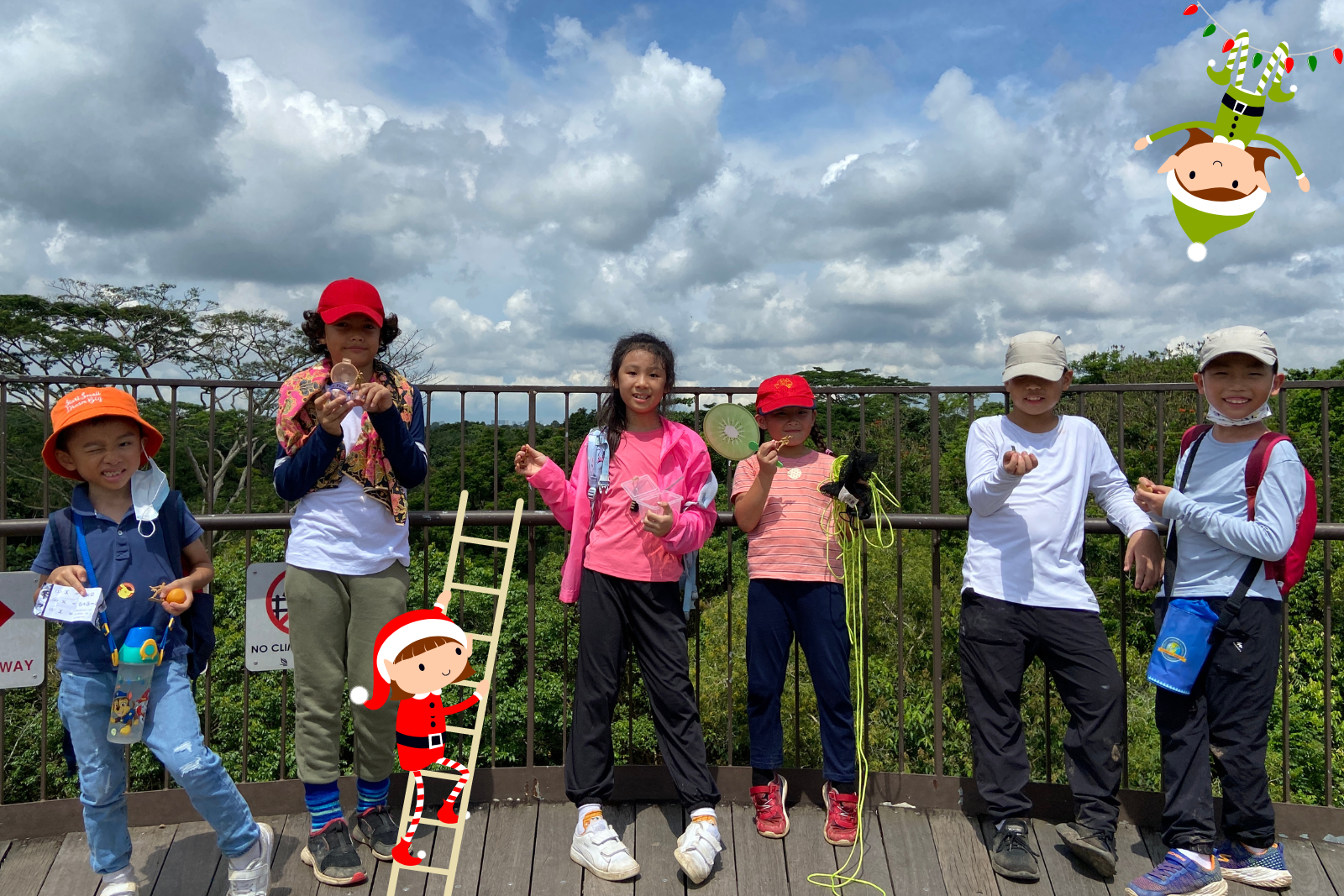 Overview
Tropical Christmas-themed adventure
Perfectly-paced with right amounts of outdoor exposure for first timers
Enchanting forest to get acquainted to Singapore's flora, fauna and wildlife
What to Expect?
Recruiting elves to embark on a unique adventure to save Santa's Forest Wonderland! Learn how to identify the dangers lurking around the magical forest and how to protect ourselves against adverse outdoor elements. Indulge in the rich diversity of flora & fauna and be surprised with the wildlife one can encounter. Our young ones will be challenged to think on their feet through a child-led rescue mission to save Santa, amidst possible hazards & risks 'lurking' around. It is a mission to harness collaborative spirit and creative thinking to ensure the safety of everyone. What better way to welcome the yuletide season than through a grit-building and meaningful adventure!
Learning Outcomes
Develop the Christmas Spirit of teamwork and kindness
Ability to identify risk and hazards in nature and react appropriately when met with risks
Camp Highlights
Here's something that your child might be keen to look forward towards.
Getting Ready for Santa
Children learn about risk assessment and understand about the spirit of giving and sharing and how it translates when one ventures into the wilderness for great adventures.
Santa's Forest Wonderland Adventure
Be kept on their toes as we go in search of Santa's mystical home while keeping a look out for possible risks and hazards. Be prepared for an splashing treat and get dirty at the outdoor ""Mud Spa""!
Great Santa Rescue
Explorers will put the to test what they learn about risk assessments and approaching them with care, as they work in their teams on a rescue mission. They will experience undulating terrains and log climbing, promising a memorable time with their friends!
Disclaimer: All images are for illustrative purposes only and may not fully reflect the actual programme trail or activity held during the camp.
Show More
Transportation from Mountbatten Square (base camp) to parks is complimentary.
Meals during the camp are complimentary. We provide vegetarian or non-vegetarian meals and they are no pork and no lard options.
Food and snacks provided may contain traces of nuts. We strongly encourage parents to pack their own meals should the child have dietary concerns or food allergies
Every child has different learning needs. Our instructors are not trained to support children with special needs. If you wish to have someone speak to you on this, please contact us at via email or WhatsApp.
Due to unforeseen circumstances, there may be slight variations to the camp.
For the health and safety of all children and staff at Outdoor School Singapore, all parents are to inform us immediately if your child or any of your family members are recovering from covid. Our instructors reserve the right to turn away / refuse participants who appear visibly unwell on the day of camp.
Appropriate outdoor attire to protect against natural elements
Water bottle to keep your child hydrated
Sunscreen and insect repellent

Full list of required items will be provided in email confirmation.
What is the refund policy?

100% refund for withdrawal request received at least 30 days before 1st day of camp. However, please note that there will be a service and processing fee imposed by the ticket registration agent. Thereafter, we adhere to a no-refund policy, unless stated otherwise. In the event the camp is cancelled, a full refund will be given.

Do you offer Sat/Sun camp?

To get updated on our latest offerings, subscribe to our newsletter so that our Junior Explorers do not get left out on the latest adventures!

What happens if it rains on the day of camp?

All children are required to bring their raincoats during the camp. In the event of light rain, the camp will still take place with the children safely suited up with raincoats. Rest assure that the children's safety is of utmost importance. Hence, during heavy rain and thunderstorm, all outdoor activities will cease and the group will seek shelter at the nearest shelter/pit-stop immediately. Wet weather activities/plans will take place then. All our camp locations have appropriate shelters.
Speak To Us
Seeking to introduce outdoor adventure to a group of children? Think birthday parties with a difference, school holiday adventures, graduation camps. You tell us. In short, if you have a group of kids and you are wondering how to fill their time with a different kind of adventure, come speak to us and we'll customise something for you.
You Might Be Interested In
popular
Exploring Singapore via the MRT
Discovering our heartlands & its residents
Inter-generational activities & experience
Next available: 20 Nov - 22 Nov
Perfect Primary 1 transition Camp
Get acquainted to nature & wildlife in this well-paced camp
Hones resilience & 'I Can Do It' spirit